Eagle's Wings caregivers profile consist of Nursing Manager, License Practical Nurse, Personal Care Assistant, Certified Nusring Aide or Companion Sitter. They all receive background screenings and required certifications. We work so that our mission to you and your loved ones will be accomplished - to simply delight our patient's life with tender loving care.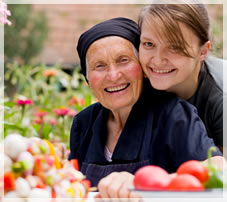 Nurse Manager
Eagle's Wings Nurse Managers are highly trained professionals with varied experiences ranging from Business Manager to Registered Nurse. They oversee and supervise assignments of LPNs, CNA's/ PCA's and Companion Sitters. They also provide health promotion, counseling and education; administer medications, woundcare, tubal feedings and numerous other personalized interventions. Last but not least, our Nurse Managers make critical decision about needed actions for the clients as needed.
Personal Care Assistants
Eagle's Wings Personal Care Assistants(PCA)/Certified Nursing Aides (CNA) are trained and equipped to accommodate the needs of your love one(s). Our Personal Care Assistants are people you can trust. Because of the nature and sensitivity of our business, it is imperative that our employee selection process be comprehensive. Our PCAs/CNAs provides 1:1 supervisio for safety and assistance to the client in activities of daily living to maintain the client in their home. They maintain and adhere to the HIPPA privacy policies and procedures and maintain a positive working relationship with clients and their families; must maintain professinal appearance at all times. Some duties include assisting with toileting, transfer and ambulation, bathing, grooming, shampooing hair, turning and positioning client, dressing, light housekeeping and other assignments.
Our helpers consist of:
Registered Nurses, Licensed Practical Nurses
Personal Care Assistants/Certified Nursing Assistants
Companion Sitters
All these experienced and qualified professionals are subject to
Criminal background check
Have their social security number verified
Have employment reference check
Interviewed
Demonstrate maturity, caring, punctuality and reliability
Undergo a through orientation process
Undergo competency testing
Speak fluent English
Have their employment eligibility verified
Have at least two personal references verified
If you want to be part our team. Please click here. Answer a great call of caregiving today.

How May We Help You?